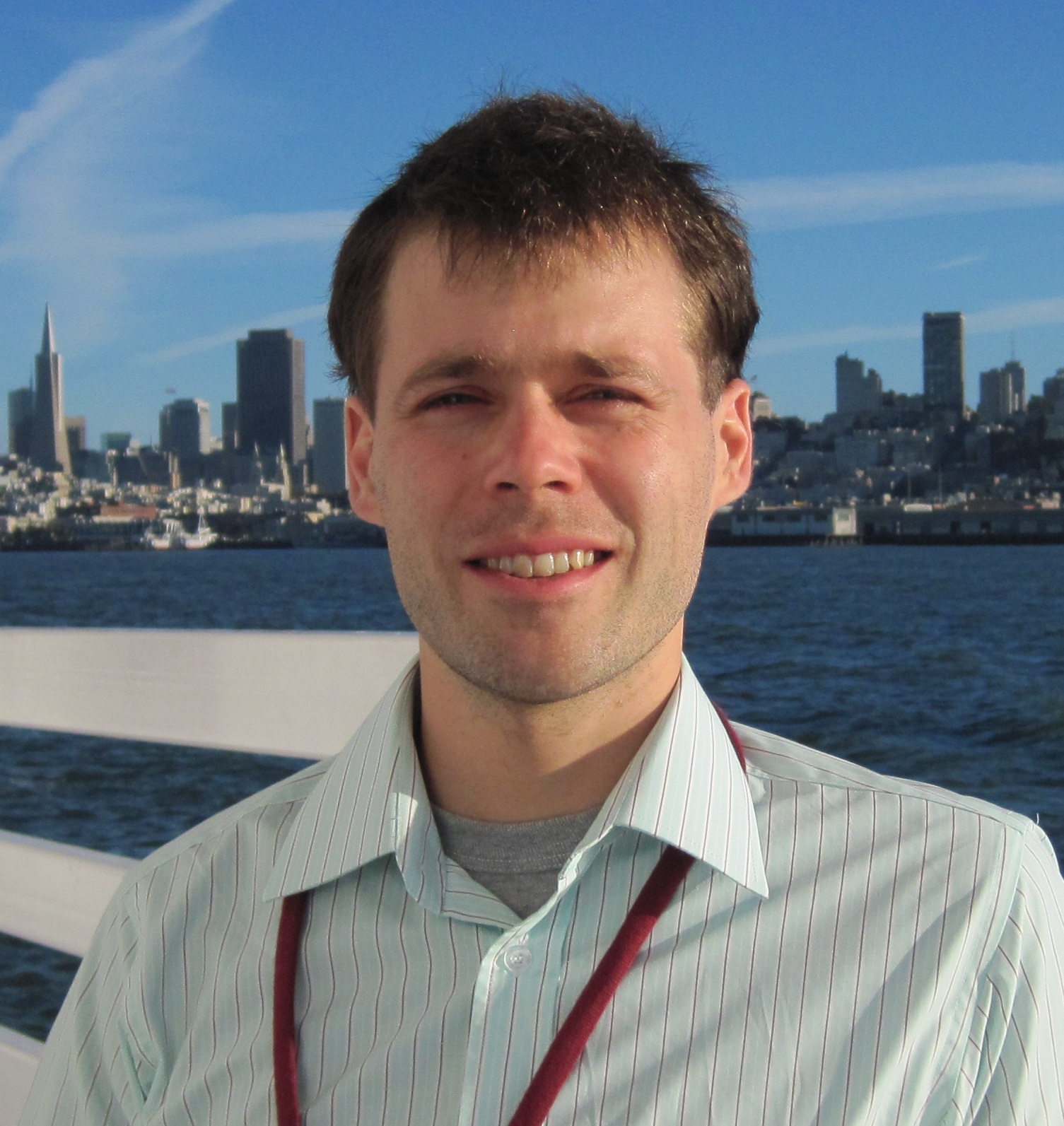 My research focuses on design and control strategies for systems that operate with uncertainty. Evolved biological systems reliably work in random, unstructured, and fluctuating environments, and often do so with a baffling lack of global information, planning, and communication. Their approaches seems to focus on self-organization, managing noise created by many interacting components, and using distributed reactive behaviors as feedback to adapt their strategies. Can we build systems with similarly robust behavior?
Currently, I am applying these biological guiding principles to robotic construction, specifically, termite inspired construction algorithms that cope with unstructured terrain and disturbances by exploiting a combination of reactive behaviors and compliant construction materials. My thesis work focused on tuning local behaviors to reliably achieve predictable global behavior from unreliable or stochastic components. I have built and worked with several robotic test-beds to develop, refine, and test these control strategies.
Molecular Machine Learning (Current)
Machine learning is revolutionizing a number of scientific and engineering disciplines by efficiently extracting information from noisy and uncertain data, e.g. computer vision, medical screening, and model/parameter learning from vast amounts of data. Systems Biology and other engineering disciplines that aim to design complex behaviors on a molecular level are currently plagued by noise and component uncertainty. The goal of this ongoing project is to bring the algorithmic tools that are so successful when implemented on computers to the molecular realm. Initial results focus on how fundamental and general machine learning algorithms, like belief propagation on graphical models, can be implemented by molecular sytems.
Amorphous Robotic Construction (Current)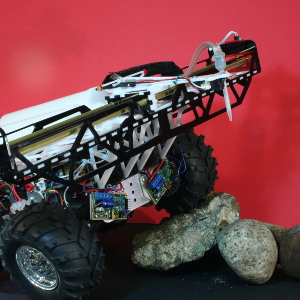 This project aims to create algorithms and hardware that can reliably build structures in unstructured terrain. Some animals, e.g. mound building termites, are really good at this type of construction. Their skill depends on the tightly coupled interaction of construction strategy and construction material. Termites and other animals often take advantage of goopy, amorphous materials to build in irregularly shaped environments. From a robotics perspective, this approach is appealing since mechanical feedback during construction not only makes the process robust but potentially allows for much coarser control and sensing requirements of the construction mechanism. The robots I am working on use polyurethane foam as amorphous construction material. Depositions are modeled as operator applications to continuous functions, and robust strategies are designed to always reach desirable invariant sets after a finite number of depositions.
Movies:
Simulation of robot (blue circle) building a large ramp. [avi] (3.5 mb)
Foam deposition mechanism creating a ramp. [mp4] (4.1 mb)
Factory Floor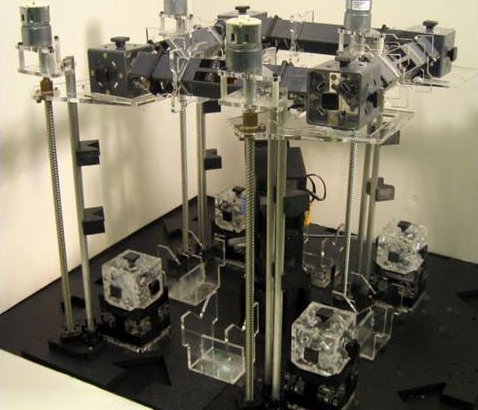 The Factory Floor Testbed is an experiment to explore scalable, robust, multi robot construction hardware and algorithms. It consists of modular robots that can build arbitrary lattice structures from two types of raw materials. The hardware is built by the (ModLab) at the University of Pennsylvania. My role in the project is the design of models and robust construction algorithms for the testbed.
Movies:
Simulation of Factory Floor Testbed building a chair. [avi] (4.9 mb)
Robotic Chemistry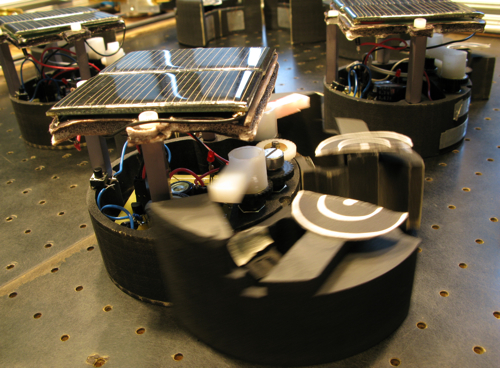 The Robotic Chemistry Testbed is physical instantiation of a tunable Stochastic Chemical Reaction Network. It consists of three types of simple robots that are randomly stirred on an air table. They are machined from polyurethane foam with embedded magnets. One type of robot has an analog circuit connected to solar cells that allow it to collect energy and break apart the dimers formed by the other two robot types. In this project I helped with the initial design and advised a team of undergraduate students with the detailed design and construction.
Movies:
Active robot disassembling a dimer. [avi] (1.1 mb)
Testbed observed via overhead camera (2x real time). [avi] (3.3 mb)
Programmable Parts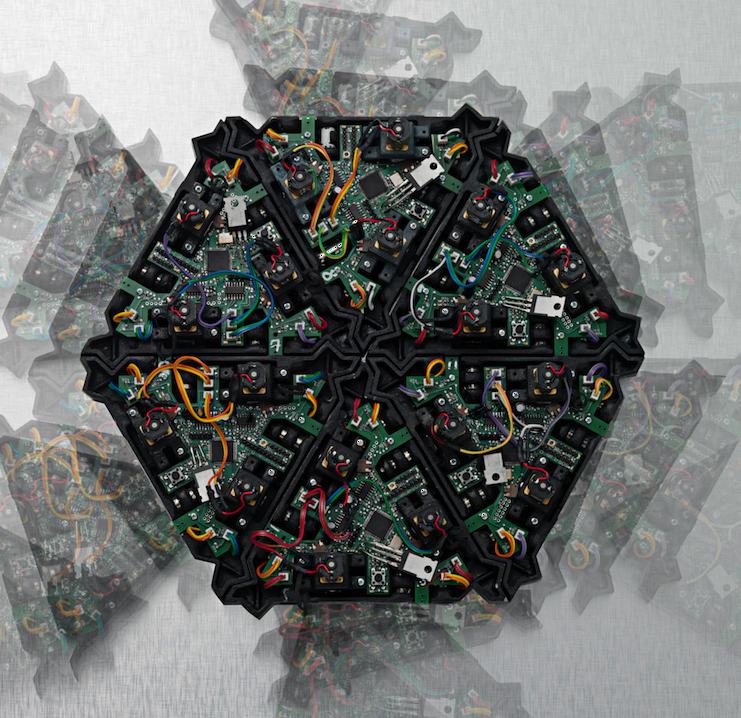 The Programmable Parts Testbed is a stochastic self assembly experiment. Triangular robots are randomly stirred on an air table so that their motion cannot be directly controlled by the experimentor. However, the robots binding behavior with respect to other robots can be controlled by specifying local rules as a graph grammar. We showed how to create grammars to build arbitrary shapes by using the testbed as an instantiation of a Stochastic Chemical Reaction network. I did most of the electrical and mechanical design work for these robots as well as writing the embedded control software for interpreting graph grammars.
Movies:
Prototypes latching, communicating, and unlatching. [avi] (545 kb)
Hexagon formation observed via overhead camera (5x real time). [avi] (3.0 mb)
Publications
Y. Deng, Y. Hua, N. Napp, K. Petersen. Scalable Compiler for Distributed Assembly with TERMES Distributed Autonomous Robotic Systems (DARS) 2018. (acceptance rate 47%).
M. Saboia Da Silva, V. Thangavelu, W. Gosrich, N. Napp. Autonomous Multi-Material Construction with Heterogeneous Robot Teams Distributed Autonomous Robotic Systems (DARS) 2018, (acceptance rate 47%).
Y. Liu, S. Shamsi, L. Fang, C. Chen, and N. Napp. Deep Q-Learning for Dry Stacking Irregular Objects International Conference on Intelligent Robots and Systems (IROS) 2018, (acceptance rate 47%).
M. Saboia Da Silva, V. Thangavelu, W. Gosrich, N. Napp. Autonomous Adaptive Modification of Unstructured Environments Robotic Science and Systems (RSS) 2018, (Finalist for Best Systems Paper, acceptance rate estimate ~33%)
V. Thangavelu, Y. Liu, M. Saboia Da Silva, N. Napp. Dry Stacking for Automated Construction with Irregular Objects. International Conference on Robotics and Automation (ICRA) (acceptance rate %41)
Q. Zhang, V. Thangavelu., R. Corbisiero, I. G. Ruiz de Adana, N. Napp, L. Cavuoto. Effects of Simulated Masonry Work on Physical and Cognitive Performance: A Pilot Study. Human Factors and Ergonomics Society, International Annual Meeting (HFES) 2018.
Z. S. Hashemifar, K. W. Lee, N. Napp, and K. Dantu. Geometric Mapping for Sustained Indoor Autonomy Workshop on Internet of People, Assistive Robots and ThingS IoPARTS@MobiSys 2018, Munich, Germany, June 2018.
G. P. Farina , S. Shamsi, M. Gaboardi, N. Napp. Probabilistic Programming for Robotics Probabilistic Programming Languages, Semantics, and Systems (PPS), Workshop - Principles of Programming Languages (POPL) 2018.
F. Schoeneman, S. Mahapatra, V. Chandola, N. Napp, J. Zola. Error metrics for learning reliable manifolds from streaming data SIAM Data Mining 2017 (acceptance rate %27),
N. Lakshminarayana, N. Narayan, N. Napp, V. Govindaraju. A Discriminative Spatio-temporal Mapping of Face for Liveness Detection International Conference on Pattern Recognition (ICPR), 2017
Z. S. Hashemifar and K. W. Lee and N. Napp and K. Dantu. Consistent Cuboid Detection for Semantic Mapping International Conference on Semantic Computing (ICSC) pp 526-531, 2017.
V. Thangavelu, Y. Liu, M. Saboia Da Silva, N. Napp. Dry Stacking Strategies for Au- tonomous Construction The What without the How: Specifying Planning Problems in Robotics Workshop at Robotics Science and Systems (RSS) 2017.
D. Andreen, P. Jenning, N. Napp, K. Petersen. Emergent Structures Assembled by Large Swarms of Simple Robots. Posthuman Frontiers: Papers for the ACADIA 2016 Conference, pp 52--61, 2016. (acceptance rate %28)
Y. Liu, M. Saboia Da Silva, K. Schatz, M. Paul, N Napp. Biometric Patterns on Long-Evans Rats for Automatic Behavior Analysis Visual observation and analysis of Vertebrate And Insect Behavior Workshop - International Conference on Pattern Recognition (ICPR 2016).
K. Petersen, P. Bardunias, N. Napp, J. Werfel, R. Nagpal, S. Turner Arrestant property of recently manipulated soil on Macrotermes michaelseni as determined through visual tracking and automatic labeling of individual termite behaviors. Behavioral Processes , Volume 116, pp 6--11, 2015.
N. Napp and R. Nagpal. Distributed Amorphous Ramp Construction in Unstructured Environments. Robotica, Volume 32(2), pp. 279--290, 2014. [PDF]
N. Napp and R. Nagpal. Robotic Construction of Arbitrary Shapes with Amorphous Materials. International Conference on Robotics and Automation (ICRA14), 2014. [PDF]
N. Napp, B. Araki, M. Tolley, R. Nagpal and R. J. Wood. Simple Passive Valves for Addressable Pneumatic Actuation. International Conference on Robotics and Automation (ICRA14), 2014.
N. Napp and R. P. Adams. Message Passing Inference with Chemical Reaction Networks. Advances in Neural Information Processing Systems (NIPS 13), Lake Tahoe, USA, 2013. Selected for oral presentation. [PDF]
N. Napp and R. Nagpal. Distributed Amorphous Ramp Construction in Unstructured Environments. International Symposium on Distributed Autonomous Robotic Systems (DARS12), Baltimore, Maryland, 2012. Runner-up for Best Conference Paper award. [PDF]
N. Napp, J. M. Wu, O. R. Rappoli, and R. Nagpal. Materials and Mechanisms for Amorphous Robotic Construction. International Conference on Intelligent Robots and Systems (IROS12), Vilamoura, Portugal, 2012. [PDF]
K. Petersen, N. Napp, J. Chin-Lee, J. Werfel and R. Nagpal. 3D Tracking of Building Processes in Macrotermes. Visual Observation and Analysis of Animal and Insect Behavior, Workshop at International Conference on Pattern Recognition (ICPR), Tsukuba Science City, Japan, 2012. [PDF]
N. Napp and E. Klavins. Load Balancing for Multi-Robot Construction. International Conference on Robotics and Automation (ICRA11), Shanghai, China, pp 254--260, 2011. [PDF]
N. Napp and E. Klavins. A Compositional Framework for Programming Stochastically Interacting Robots. The International Journal of Robotics Research , Volume 30(6), pp 713--729, 2011. [PDF]
N. Napp and E. Klavins. Robust by Composition: Programs for Multi-Robot Systems. International Conference on Robotics and Automation (ICRA10), Anchorage, AK, USA, pp 2459--66, 2010. [PDF]
N. Napp, S. Burden, and E. Klavins. Setpoint Regulation for Stochastically Interacting Robots. Autonomous Robots, special RSS Issue, Volume 30(1), pp 57--71, 2011. [PDF]
N. Napp, S. Burden, and E. Klavins. Setpoint Regulation for Stochastically Interacting Robots. Proceedings of Robotics: Science and Systems (RSS09), Seattle, Washington, USA, 2009. Nominated for Best Student Paper award. [PDF]
N. Napp, D. Thorsley, and E. Klavins. Hidden Markov Models for Non-Well-Mixed Reaction Networks. Proceedings of American Control Conference (ACC09), St. Louis, Missouri, USA, 2009. [PDF]
N. Napp and E. Klavins. An Extended State-Space Markov Chain Model for Self-Organizing Systems in Non-Well-Mixed Environments. 4th Annual Conference on the Foundations of Nanoscience, Snowbird, UT, April 2007. Contributed Talk + Abstract.
S. Burden, N. Napp, and E. Klavins. The statistical dynamics of programmed robotic self-assembly . International Conference on Robotics and Automation (ICRA06), Orlando, FL, USA, pp 1469--76, 2006. [PDF]
S. Burden, N. Napp, and E. Klavins. Tuning Reaction Networks for Self-Assembly. 3rd Annual Conference on the Foundations of Nanoscience , Snowbird, UT, April 2006. Poster + Abstract.
E. Klavins, S. Burden, and N. Napp. Optimal Rules for Programmed Stochastic Self-Assembly. Proceedings of Robotics: Science and Systems (RSS06), Philadelphia, PA, 2006. [PDF]
J. Bishop, S. Burden, E. Klavins, R. Kreisberg, W. Malone, N. Napp, and T. Nguyen. Self-Organizing Programmable Parts . International Conference on Intelligent Robots and Systems (IROS05), Edmonton, AB, Canada, 2005. [PDF]
Research Group
Current:
Maira Saboia Da Silva (PhD 2019) Vivekanandhan Thangavelu (PhD 2020) Yifang Liu (PhD 2020) Seyed Mahdi Shamsi (PhD 2019) Nse Obot (BS/MS 2019) William Coulter (BS MAE 2019)
Former:
Walker Gosrick (BS MAE/CS 2018) (Now at the GRASP Lab at UPenn!) Adhish Chung (BS 2018) (Microsoft) Christopher Owen (MS 2016) Prithvi Shah (MS 2016) Aniket Sadanand Mayakal (MS 2015) Manikanta Sandeep Kandregula (MS 2015) Shishir Navin Ambastha (MS 2015) Kausthube Vartak (MS 2014) (Bloomberg)
Education
Post-Doc, Bio-Inspired Engineering, Wyss Institute, Harvard University MA, 2011--2014 PhD, Electrical Engineering, University of Washington WA, 2011 MS, Electrical Engineering, University of Washington WA, 2006 BS, Engineering, Mathematics, Harvey Mudd College CA, 2003