(Adapted from Allen, James (1987), Natural Language Understanding (Menlo Park, CA: Benjamin/Cummings), p. 74.)

Consider the following RTN from Allen 1987, p. 51: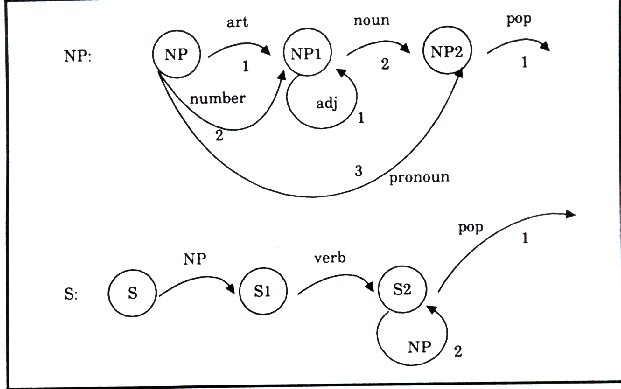 In this figure, only the NP arc is a "push" arc; all others are "cat" or "pop" arcs. The numbers on the arcs indicate the order in which arcs will be tried when more than one arc leaves a node.
Use the following lexicon:
| Category | Word |
| --- | --- |
| art | a, the |
| number | one |
| pronoun | one |
| adj | green, wild |
| noun | dogs, green, man, saw |
| verb | broke, cried, faded, man, saw, |
(a) Using the RTN parser handout, show a trace in the format I demonstrated in lecture of a top-down RTN parse of the following sentence:

The green faded.

(b) Implement this RTN and lexicon in SNaLPS, and run it using (parse 4). Compare the results with your answer to part (a).