36 HOURS
Buffalo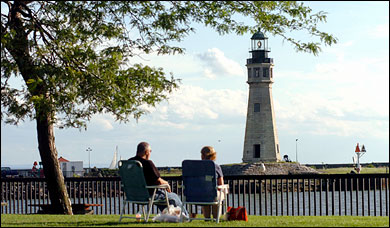 Dan Cappellazzo for The New York Times
By BARBARA IRELAND


Published: August 13, 2004



ROSPERING where East Coast canal boats and railroads met Great Lakes cargo, Buffalo was a rich city around 1900, a time when a dynamic group of innovators was transforming American architecture. Wealth and vision came together in major works by Frank Lloyd Wright, Louis Sullivan, H. H. Richardson, Frederick Law Olmsted, Eliel and Eero Saarinen, and more — arrayed amid blocks of Victorian houses and lavish mansions. When industry collapsed, a shaken and considerably poorer Buffalo slowly realized it had a legacy. Now Buffalonians are working to preserve their architectural collection and are eager to show it off. The time to visit is summer, when Buffalo gets a glorious payback for its snowy winters with some of the best weather in the nation — three months of mostly sunny, dry days with temperatures in the high 70's and low 80's.
Friday
6 p.m.
1) On the Waterfront
Join joggers and sailors at Erie Basin Marina (329 Erie Street), a popular park. Climb the small observation tower for a picturesque 360-degree view of grain elevators (a Buffalo invention) on the placid Buffalo River, an 1833 lighthouse, and the final expanse of Lake Erie as it narrows to become the Niagara River. The trees a couple of miles across the water are in Canada — British troops came across to burn Buffalo to the ground in the War of 1812, but all is now forgiven. To the north, the current picks up on the way to Niagara Falls, 15 miles downstream.
7 p.m.
2) The Mansion District
Drive north on Delaware Avenue, where one landmark, a towering red sandstone church at the corner of West Tupper Street, is being restored by Ani DiFranco to become the headquarters of her Righteous Babe Records. At another, the Greek-revival Wilcox Mansion (641 Delaware Avenue), Theodore Roosevelt took the presidential oath in 1901 after an anarchist ruined Buffalo's much-vaunted Pan American Exposition by assassinating William McKinley on the exposition's grounds. Dozens of grand mansions remain on this avenue, but others fell to 20th-century ideas of progress. When the elegant Metcalfe House was demolished in 1980, the Metropolitan Museum of Art acquired part of its Stanford White-designed interior and reassembled it in New York. Delaware Avenue got a parking lot. Relax over dinner at Hutch's (1375 Delaware Avenue, 716-885-0074), a cozy bistro that draws a cheerful crowd. The oysters with mignonette sauce ($12) are cool and crisp, and seafood is a strong contender for the entree, too: specials one recent Friday included a crisply sauteed soft-shell crab and thick, meaty tuna in a sesame-seed crust (both $24.95). Linger for berries and whipped cream in an almond cookie cup ($5.95).
Saturday
10 a.m.
3) Walk and Gawk
Take a downtown stroll among 19th-century masterpieces, beginning with the big star, Louis Sullivan's 1895 Guaranty Building (28 Church Street), 13 stories of intricately molded terra cotta enclosing a steel skeleton and expressing a complex philosophy about manmade and natural forms. Nearby, beyond the stone towers and stained glass of Richard Upjohn's St. Paul's Cathedral (Church and Pearl Streets), 128 terra cotta Medusa heads peer out from the roof-line perimeter of Daniel Burnham's elaborately decorated Ellicott Square Building (295 Main Street). The ornate Gothic Revival Erie Community College (Ellicott and South Division Streets), was built as the main post office in the late 1890's, when the city's friends included Grover Cleveland, a former mayor of Buffalo and, briefly, the town hangman. Advance to Art Deco at City Hall (65 Niagara Square), a 32-story tour de force with symbolic friezes and a colorful, tiled dome. The obelisk in the traffic circle out front is Buffalo's apology to McKinley.
Noon
4) The Temple of Wings
Naturally, the best Buffalo chicken wings are in Buffalo. Stop at the Anchor Bar (Main and North Streets, 716-886-8920), where their fame began, for a plate of the spicy originals and the tale of their creation by a resourceful cook.
1 p.m.
5) Browsing
Artists and funky window designers give a lighthearted touch to shops and galleries on Elmwood Avenue from West Ferry Street to Bidwell Parkway. Browse through luminous bracelets and flutes handmade in Cameroon at Plum Pudding (No. 779, 716-881-9748), or pick up pottery or an Albert Einstein action figure at Positively Main Street (No. 773, 716-882-5858). Talking Leaves (No. 951, 716-884-9524) is a well-stocked independent bookstore adjoining a shop with good coffee and pastries. For views of substantial Victorian houses, wander east off Elmwood onto the side streets.
3 p.m.
6) Wright in Progress
Frank Lloyd Wright shocked a neighborhood of sedate three-story houses in 1905 with his aggressively modern Darwin Martin House complex (125 Jewett Parkway): a sprawling 15,000-square-foot Prairie-style house, two smaller houses, a conservatory, stables, gardens and a 100-foot-long pergola. Martin, a businessman and a patron of Wright (their sizable correspondence is now at the University at Buffalo), absorbed outrageous cost overruns to give the master a free hand with cantilevered roofs, Roman
brick and art-glass windows (left). The complex, now publicly owned, is undergoing a $23 million restoration, expected to be finished in 2007. Even with the Wright-designed furniture in storage and plumbers roaming the house, the one-hour-fifteen-minute tour is fascinating — a view of architecture as art and of an eccentric genius who demanded oddities like art-glass windows three-quarters of an inch wide but balked at giving Mrs. Martin a closet. (Tour schedules vary, reservations are essential; 716-856-3858; darwinmartinhouse.org.).
8 p.m.
7) A Plate and a Glass
Rue Franklin (341 Franklin Street, 716-852-4416), whose reputation as Buffalo's best restaurant is rarely challenged, not only serves French food and wines, but takes a French-style August vacation. During its hiatus (to Sept. 8 this year), try Oliver's (2095 Delaware Avenue, 716-877-9662). A generally predictable favorite since 1936, it is adventurous enough to use truffled honey with its roast free-range chicken ($24).
Sunday
10 a.m.
8) Drive-by Masterpieces
Take a quick driving tour past more unmissable architecture. At the 1940 Kleinhans Music Hall (370 Pennsylvania Street), the Saarinens married upswept lines and near-perfect acoustics. (Its carefully shaped wooden interior walls were "as warm as the wood in my violin," Isaac Stern once told an audience there.) Green and lovely Chapin and Lincoln Parkways are main streets in the best-preserved part of Olmsted's parks system, begun in 1868 and encompassing six city parks connected by miles of divided parkways and landscaped traffic circles. Just off Lincoln at 629 Bird Avenue is another of Buffalo's six houses by Wright. Nearby at 400 Forest Avenue, look behind a graceful screen of trees (another Olmsted landscape) for the majestic, spooky towers of the abandoned Buffalo State Hospital, one of H. H. Richardson's earliest and largest Romanesque designs. Saving it is the preservationists' next big challenge.
11 a.m.
9) Quiche and Caryatids
At the Garden Restaurant in the Albright-Knox Art Gallery (1285 Elmwood Avenue, 716-270-8223), take a table in the sculpture garden for a relaxed and civilized buffet brunch ($12.50) with dishes like fresh blackberries, baked salmon and artichoke quiche. In a quick visit to the gallery itself, concentrate on the 20th-century art. Seymour H. Knox, a Buffalo banker whose father and cousin founded the F. W. Woolworth chain, was an early patron of Abstract Expressionists like Willem de Kooning, Mark Rothko and, especially, Clyfford Still. He collected contemporary art for decades, giving the gallery more than 700 works. Andy Warhol's portrait of Knox hangs near his renditions of beef noodle soup cans and Marilyn Monroe (716-882-8700; 11 a.m. to 5 p.m. Tuesday to Saturday, Sunday, noon to 5 p.m.; admission $8 for adults, children 13 and under free). Outside, gaze out from the gallery's back porch, supported by caryatids sculptured by Augustus Saint-Gaudens, at the placid lake in Delaware Park, Olmsted's crown jewel.
Visiting Buffalo
Buffalo is at the confluence of Lake Erie and the Niagara River, 400 miles northwest of New York City and 100 miles southwest of Toronto. Buffalo Niagara International Airport is served by several major airlines.
The Mansion (414 Delaware Avenue, 716-886-3300), a luxurious hotel in an elegant oversized house built in 1869, with preserved architectural and interior details, has 28 rooms from $150 to $250, butler service included.
The Hyatt Regency Buffalo (2 Fountain Plaza, 716-856-1234) is built in and around a 1923 downtown office building, with part of the original marble and iron facade preserved in the lobby. Its 394 rooms and suites are $140 to $345.
The Hampton Inn & Suites Downtown Buffalo (220 Delaware Avenue, 716-855-2223) opened in 2001 in a converted 84-year-old brick office building, preserving arched stonework on the facade. Its 137 rooms and suites start at $119.

| | |
| --- | --- |
| | Advertisement |