Travel
The 2004 Top 25 Fairs & Festivals
Our readers love to let us know what they're thinking. So many responded to our seventh annual Top 25 Arts Destinations poll (reported in the August 2004 issue) that we decided to poll them on other favorites as well. AmericanStyle's first-ever Top 25 Art Fairs and Festivals list includes events from the offbeat to the swanky, in big cities and small towns, with fine art and funky collectibles. But all pride themselves on the high quality of their artists—and all, evidently, have won attendees' favor.

Top 10

 

The Rest of the Best

11. Sausalito Art Festival, Sausaltio, Calif.
12. Craft Fair of the Southern Highlands, Asheville, N.C.
13. American Craft Council Baltimore Show, Baltimore, Md.
14. Philadelphia Museum of Art Craft Show, Philadelphia, Pa.
15. Kentucky Crafted: The Market, Louisville, Ky.
16. Festival of Arts/Pageant of the Masters, Laguna Beach, Calif.
17. Washington Craft Show, Washington, D.C.
18. Santa Fe Indian Market, Santa Fe, N.M.
19. Winter Park Sidewalk Art Festival,Winter Park, Fla.
20. Long's Park Art & Craft Festival, Lancaster, Pa.
21. Allentown Art Festival, Buffalo, N.Y.
22. Philadelphia Furniture and Furnishings Show, Philadelphia, Pa.
23. Downtown Festival & Art Show, Gainesville, Fla.
24. Arts Festival at Rockefeller Center, New York, N.Y.
25. Bucktown Arts Festival, Chicago, Ill.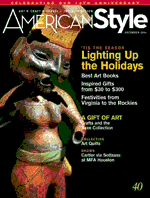 ON NEWSSTANDS NOW:
Preserving a Legacy

Touring exhibits from the landmark collection of Dorothy and George Saxe helped move craft from studio to museum. Now the Couple has gifted 600 pieces to San Francisco's de Young Museum.
The Cutting Edge

Artists are uncovering endless possibilities for expression in the once-humble quilt.
Wise Move

For more than 20 years, jewelry makers Jeff and Susan Wise have perfected the art of creative collaboration.
Arts Travel

Holiday getaways, New York in your pocket, and bronze fairy tale sculptures debuting on Upper Broadway.
Arts Tour: St. Petersburg

Once a refuge for the older set, this seaside Florida city has been revitalized as a haven for the arts.
...more contents from this issue of AmericanStyle