Desktop/xinu_mips-1.0.2.tar/xinu_mips-1.0.2/test/test-sem.c File Reference
#include <kernel.h>
#include <proc.h>
#include <semaphore.h>
#include <stdio.h>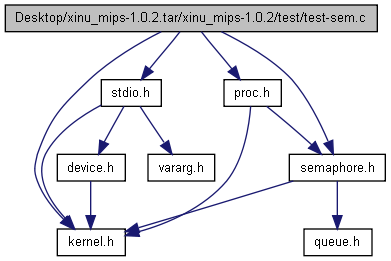 Go to the source code of this file.
---
Function Documentation
int test_semaphore
(
int
argc,
char **
argv
)
Definition at line 60 of file test-sem.c.
References create(), FALSE, freesem(), INITSTK, isbadsem, kill(), newsem(), OK, PRFREE, printf, PRWAIT, ready(), RESCHED_YES, signal(), sprintf(), test_checkProcState(), test_checkResult(), test_checkSemCount(), test_semWaiter(), testFail(), testPass(), and TRUE.
Referenced by testItem().
| | | | | | |
| --- | --- | --- | --- | --- | --- |
| void testFail | ( | const char * | | ) | |
| | | | | | |
| --- | --- | --- | --- | --- | --- |
| void testPass | ( | const char * | | ) | |