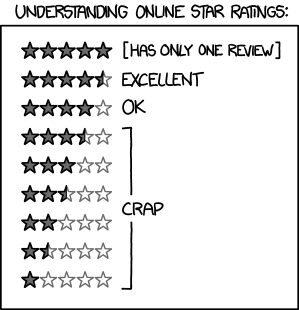 ---
Recently, JPa asked me which restaurants I would rate as 4 or 5 on a 5-point scale. I explained that I used a 3-star scheme, so he asked me what my 3-star restaurants were. I pointed him to Favorite Restaurants: What's Good, which lists them, but I was a bit embarrassed by some of the restaurants on the list, for various reasons, primarily my not having eaten in some of them in a long time (so my rankings for them are really old) or my not having some really good ones on the list yet.
Also, I have developed a "triage" theory of grading and ranking:
Rapaport, William J. (2011), "A Triage Theory of Grading: The Good, the Bad, and the Middling", Teaching Philosophy 34(4) (December): 347–372.

Abstract: This essay presents and defends a triage theory of grading: An item to be graded should get full credit if and only if it is clearly or substantially correct, minimal credit if and only if it is clearly or substantially incorrect, and partial credit if and only if it is neither of the above; no other (intermediate) grades should be given. Details on how to implement this are provided, and further issues in the philosophy of grading (reasons for and against grading, grading on a curve, and the subjectivity of grading) are discussed.
and I thought that I should really adapt it here.

On a triage theory, a restaurant would either be ranked as "good", "neutral", or "bad", where "neutral" means neither good nor bad, but somewhere in between.

However, since most readers should be primarily interested in the good restaurants, I also need to be able to distinguish among them, so, "recursively" applying my triage theory, I will award 3 stars for the really good restaurants, 1 star for the (merely?) good restaurants, and 2 stars for those that are not (yet) ranked really good or merely good. Thus:
---
My rating-code